Executive Chef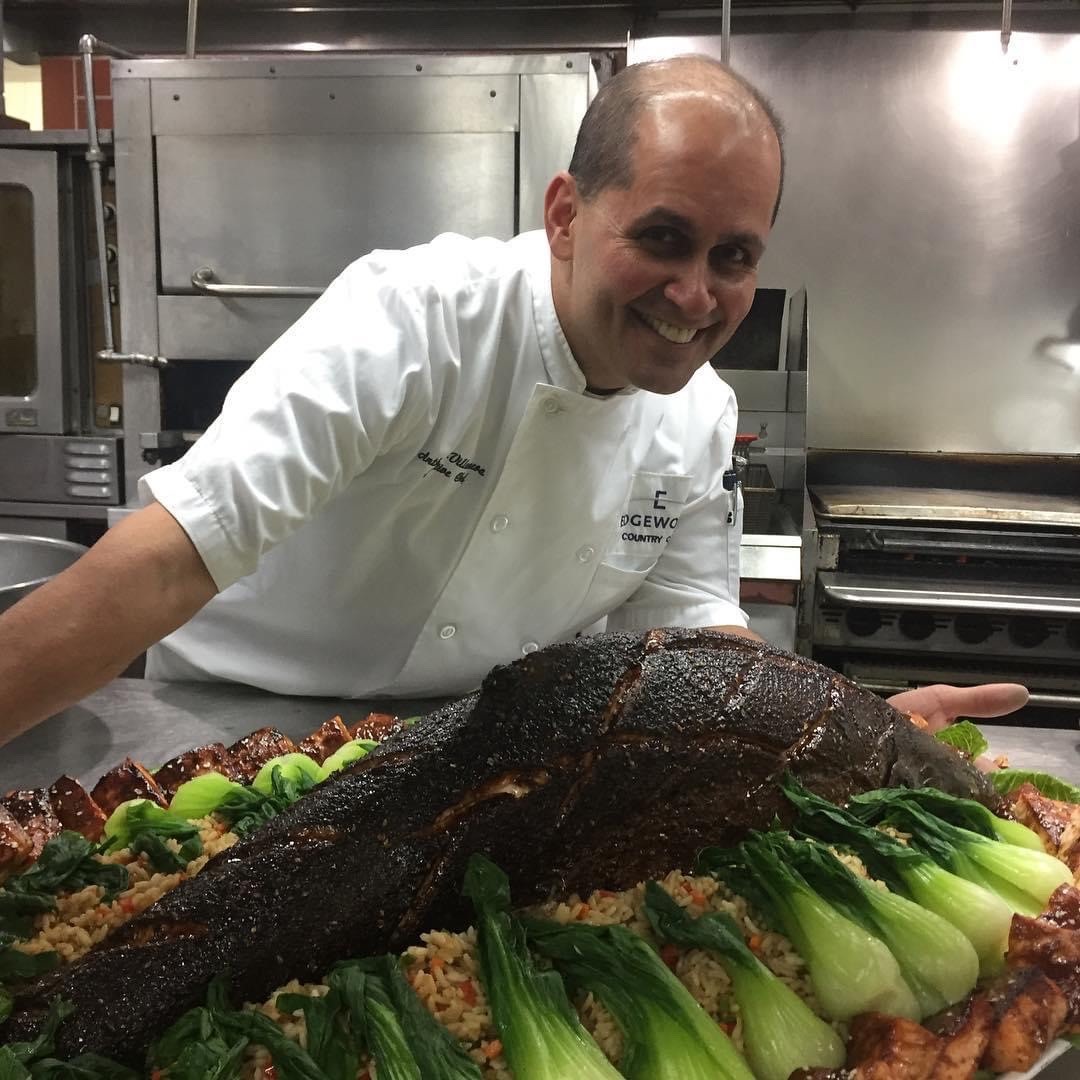 Phone: ext. 270
Email: [email protected]
aka. "Chef Tony"
Born and raised in Manhattan, New York's lower east side.
My fondest Memories of food stem from my early exposure, like going to Katz's deli for the best corned beef and pastrami sandwiches and of course, those pickles! Also going to little Italy for pasta, pizza, real New York sausage and pepper heroes and my, all-time, favorite zeppoli. Many nights my mother would take us to china town for dim sum or Chinese shrimp fried rice and my favorite, won-ton soup. Having grown up in a city like New York was the best experience. I always loved food for being exposed to it, and started cooking early on.
I began my culinary career in the early 80's working in pizzerias. Later on, I began to take cooking more seriously and started working in Greek, Mediterranean style restaurants where I developed my flavors for Mediterranean cuisine. Through hard work and endurance I began to rise up the ranks in the kitchens I worked in. Often being mentored by Greek, Italian, and Jewish chefs. After 16 years of experience in kitchens I enrolled in culinary school full time at "The Culinary Institute of Hudson County Community College". I loved every minute of it and began to immerse myself into the French Kitchen system that is the basis for any culinary training. I loved it and quickly gained the respect and favoritism of my instructors.
One day, one of my instructors asked me what I wanted to get out of my experience in school. I replied that I just wanted to get a job that would appreciate my work ethic and possibly retire from. He immediately said "forget about that, this business is too fluid and there is always a high turnover rate". I said "not me, I will work hard and be the best at what I do". He told me about an opening available at The Greenbrook Country Club in north Caldwell N.J. I was honored for his recommendation and went to work. My introduction to Country Clubs was at Greenbrook where I was promoted to Executive sous chef in less than six months. After my 12th year as the executive sous chef I was promoted to Executive Chef. I immediately began implementing all of the things I dreamt of doing with my own kitchen. I started a baking program making in house desserts, rugelach and breads. I took advantage of continuing education classes being offered at CIA in Hyde Park. I immersed myself further into Asian techniques, which focused on Indo China cuisine. I also took advantage of the Mediterranean classes being offered, which helped me to become well versed in Italian, Moroccan and Spanish cuisine. I even took advantage of some leadership classes which helped me become a better manager and problem solver.
Today, I am the proud father of six children and have a beautiful granddaughter. I love what I do for a living and especially love where I do it. My mantra in life is "work should always be productive and should always be fun". I am honored, and proud, to be The New Executive Chef of Edgewood Country Club. I promise to do everything in my power to create a truly wonderful "best in class country club". My journey has been long and yet I look forward to every moment and memory that I can help create here at Edgewood Country Club…one moment at a time.